A batch tool for audio feature extraction
Sonic Annotator is a batch tool for feature extraction and annotation of audio files using Vamp plugins.
Sonic Annotator can use any installed Vamp plugin to process a wide range of audio file types, loading audio data either from the local filesystem or from http or ftp URLs on the Internet. It can then write the results in RDF or comma-separated text formats.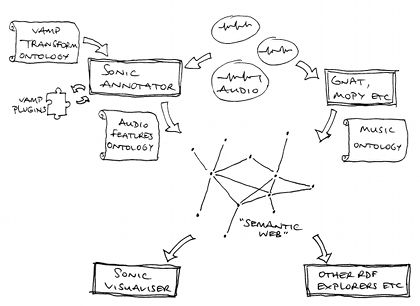 Sonic Annotator was originally developed in 2009 at Queen Mary, University of London as part of the OMRAS2 project, to facilitate feature data publication on the Semantic Web. It has since been used in a number of audio annotation projects and to power online audio feature retrieval APIs.
Sonic Annotator is Free Software published under the GNU General Public License.
Citations: If you are using Sonic Annotator in research work for publication, please cite (pdf | bib) Chris Cannam, Michael O. Jewell, Christophe Rhodes, Mark Sandler, and Mark d'Inverno, Linked Data and You: Bringing music research software into the Semantic Web, Journal of New Music Research, volume 39, no. 4, pp. 313-325, 2010.